Our rehabilitation program provides therapy services 6 days per week for short-term rehabilitation needs as well as longer-term outpatient rehabilitation therapy. We offer the highest quality of care in physical, occupational, and speech therapy services.
Physical Therapy (PT)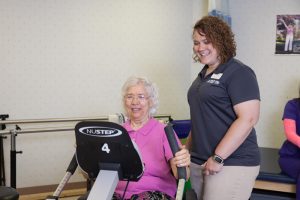 Treatment by physical means and medical devices to relieve pain, restore maximum function, and prevent disability following disease or injury. The Physician will order the therapy and an evaluation will be completed. Treatment goals generally include:
Increase strength and mobility
Increase motor control
Improve coordination, balance, and the ability to walk following a fracture
Improve overall strength, range of motion and endurance
Pain management
Teach proper body mechanics to prevent injury
Promote safety awareness for the well- being of the resident
Occupational Therapy (OT)
 
Therapeutic activities assist our residents in adapting to their social and physical environments by helping master tasks essential for daily living. Treatment goals typically include:
Functional independence- eating bathing, toileting, homemaking, cooking
Maintenance of wellness- dressing, grooming
Prevention of further disability- home assessments and modifications, adaptive equipment
Increasing safety awareness
Speech Therapy (ST)
The treatment programs are directed towards improving communication skills and safe swallowing.
Our speech therapists work to restore the following abilities:
Improving speech and voice clarity
Increasing comprehension and verbal expression
Improving chewing and swallowing ability
Maximizing cognitive language skills, like memory, problem-solving, and abstract reasoning
The goal of our therapy department is to help you regain your mobility and strength!
Interested in learning more about our Rehabilitation Services? Contact our Social Services Director, Jen Kinyo, by email at jkinyo@christiancarerc.org or by phone at (260)-565-3000.